When you exercise your muscles are turning fat and carbohydrate into forward progress. If you're pushing hard, that shifts to mainly burning carbohydrate. Most of us will run out of carbohydrate after around 2-3 hours of exercise depending on the intensity. Then you only have fat left. While we think of this as "hitting the wall", it is actually a more gradual process and your performance decreases over time. You avoid this by ingesting carbs before and during exercise. It follows that how hard and how long you can exercise may well be determined by your gut's ability to absorb carbs to send to the working muscles.
So training your gut allows you to absorb more fuel and reduces that fullness feeling by teaching your stomach to empty faster – giving you a more enjoyable session or race. Your gut needs practice!
If you try to eat 2-3 bars per hour on race day without practice, you risk putting your gut under stress and not being capable of handling it. You spend so much time training your muscles, heart and lungs; when you also include your gut in the training programme you will perform better and reduce the risk of a GI problem ending your race early.
How do I train my Gut?
We take a practical approach to training, whether it's fitness or nutrition training. There are so many variables to take into consideration that any plan must be flexible and personalized. That said, just as with your muscles, your gut can be prepared to handle what a marathon (or whatever event you are doing) will throw at it.
If you have a race coming up, we strongly recommend you start getting used to your race nutrition plan by practicing it in training from at least 2 months beforehand – that means eating as though it's race day in all of your key sessions. At YPB, we do cyclical training of our GI systems just like with regular training plans – sometimes we back off, other times we really work at it. Just take a minute to think whether you're doing an easy or a hard session and try this as part of your training…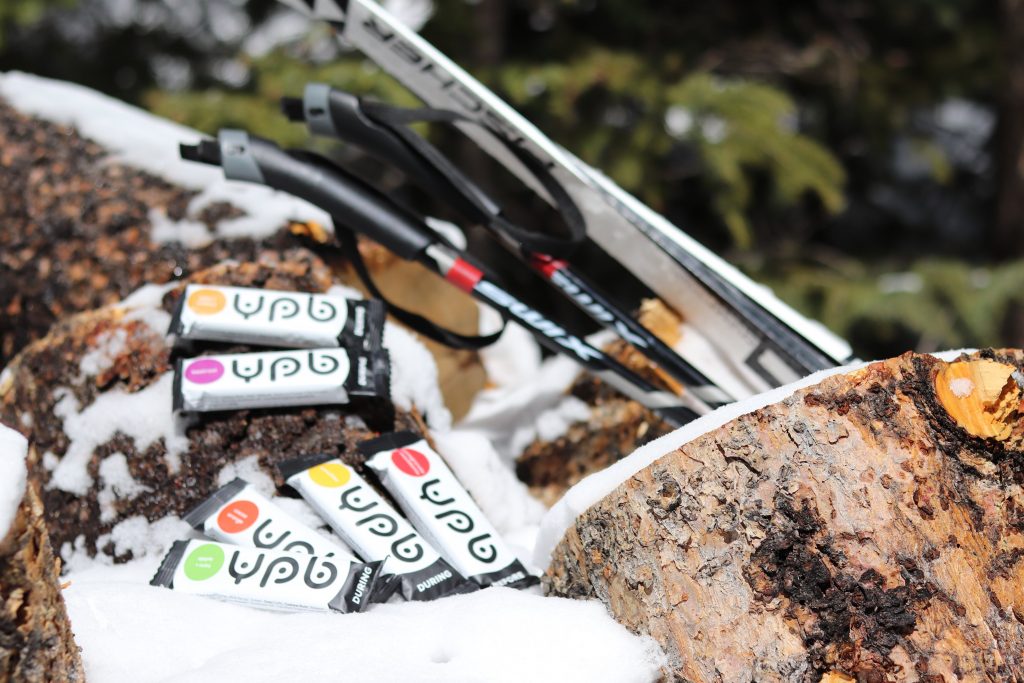 Eating on Easy Days
On easier days when training is not so focused on building speed or distance, feel free to see how your body handles fat as a fuel source by cutting back, but not eliminating, carbs during your session. The exercise intensity will have to be low but these easy days will allow you to retain and develop your ability to burn fat.
Eating on Harder Days
On other days when you train hard or work on your longer sessions, quality of the training is important and this is the perfect chance to train your gut to perform just like you will on race day. These are the days we try to work toward 90+ grams per hour of carbohydrate for sessions over 2 hours long. That's approximately 1 YPB During bar every 20-25 minutes.
You may not be able to do that straight away, but your GI system will learn to deal with it. This is how elite level athletes can consume such high volumes of energy on the go in races like the Tour de France – they had to work on it just like the rest of us.
Tip: It is up to every athlete to work out that balance between GI comfort and the maximum amount of carbohydrate you can ingest. We all know those lucky people with iron stomachs, however some of us have a low threshold for stomach cramps.
At YPB, we're always working hard on new solutions to allow us to work out this balance for you – we're excited to bring you new solutions that will help you with living YPB!
If some carbohydrate is good, is more better?
Research is increasingly clear that carbohydrate intake is linked to better performance in what is called a 'dose-response relationship'. That means more carbs yield a better exercise result. That's why we advocate for nutrition training being a crucial part of your performance! If your gut can learn to absorb more energy on the go, then you will improve your athletic performance.
Your gut can absorb up to 60 grams per hour of a single carbohydrate (like glucose). Eating more isn't necessarily a good thing, in fact you could get cramps and other problems from carbs pooling in your gut. That's why YPB bars have multiple carbohydrates (a combination of glucose and fructose among others). That allows you to increase your gut's capacity to absorb energy so you can keep exercising faster for longer.
Tip: Be flexible with your nutrition plan. If you feel like food and drink is pooling in your stomach, ease off the intensity and slow down your intake to allow your gut to catch up before hitting the gas again.

What kind of carbs?
Your gut will learn to digest and absorb the carbs you train with. So, if you train with only glucose or only fructose, your tummy will get better at handling them but not any other sugars. What this means is that, to get your best, you should train with the exact nutrition bars that you will race with. This reduces your chances of an upset GI system and maximizes your performance.
Don't Forget Fluids!
Remember to drink water along the way, this will help your gut absorb the energy from your bars by speeding up how fast your stomach empties into the rest of the GI system. Combining adequate hydration with optimal carbohydrate intake improves performance. Avoiding water while eating can contribute to GI distress for some athletes. This is particularly important in the heat as you lose more fluid through sweat.
But Remember
With gut training just as with your fitness, you lose what you don't use. If you regularly train with very low carb intake, or keto-training, then your gut will learn that routine. Then, if you try to force carbs in on race day, you run a high risk of not being able to handle the strain and suffering GI distress. Athletes training "low-carb" are more likely to get stomach problems on race day.
Thanks for reading! We hope this is helpful to get you to Your Personal Best!